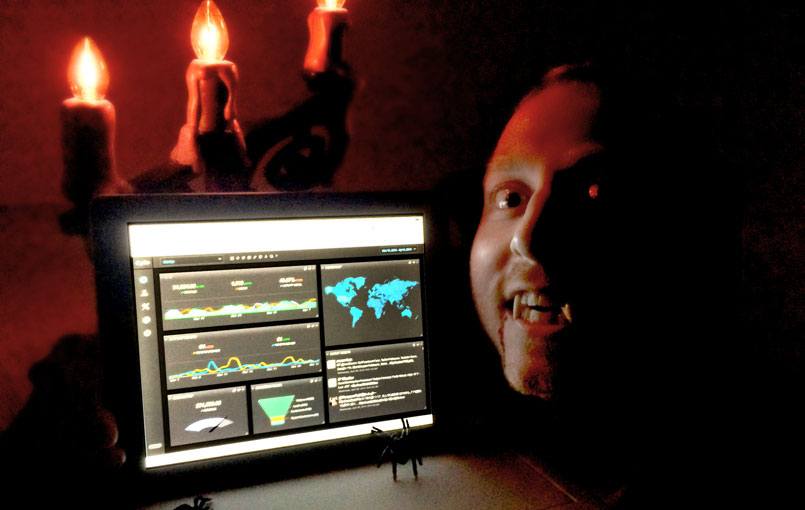 29 Oct

A digital marketer's guide to surviving the vampire apocalypse
Halloween, vampires and digital marketing: How to revamp your content
In the spirit of Halloween, we present the authoritative guide to how digital marketers can stay sharp in the event of a global vampire apocalypse. So bury those "Buffy the Vampire Slayer" DVDs, get rid of your garlic, stash any silver, and prepare to target your content to the undead.
Being a smart marketer means anticipating the future and adapting to new audiences and market trends. Anyone who's sampled pop culture lately has seen the rise of vampires and knows it's only a matter of time before they take over the world. And you can bet your overbite that the most tantalizing brands will be ready with targeted content for them to suck down. We're talking killer Bloodweiser commercials, crypt contractor keyword campaigns, and more blood bank email marketing than you can flash your fangs at.
Vampires have been around for centuries, but businesses and advertisers have always left them in the dark. This untapped audience represents a gaping opportunity, thirsty for new products and services. Keep your brand alive in the post-vampocalypse world with messages tailored to their tastes. You'll need to check the pulse of everything from your content strategy to marketing channels.
Your audience's behavior will change and so should your content and tactics.
Revamping your content
Ensure your content is something your new, undead customers can really sink their teeth into. Copy writing and design will become dark arts, not suitable for the faint of heart. You'll need to serve up bona fide "Tales from the Crypt" to have any shot at winning an ADDY. And don't forget to optimize for night vision.
Your audience's behavior will change and so should your content and tactics. Case in point, vampires have extraordinary speed and the ability to focus on multiple things at once. So you might as well kill your Twitter strategy because 140 characters is nothing to someone – or something – that can down their entire feed in 5 seconds. Long form copy will reign supreme.
Getting them to bite
You need to understand your audience for your content to effectively invite them in. And that means doing research.
It comes as no surprise that vampire split testing shows they prefer images with innocent looking humans and avoid those with mirrors.
Research also indicates that the average vampire is 372 years old and has a photographic memory. So don't even think about recycling tired creative or using stock photos they've literally seen a million times.
Make no mistake – vampires aren't batty. They're intelligent. Quite frankly they're bloody geniuses, so your messaging must be equally smart. Just like with humans, research shows that boring content is a real pain in the neck for most vampires. Websites with juicy insights and brands that offer truly original content experiences will see lower bounce rates, longer time on vein and higher customer engagement.
Researching the undead
Vampires have an elusive tendency to set their Internet browser settings to private Incognito mode. So you'll have to be bloodthirsty for trend data to effectively market to their preferences and behaviors.
Businesses, advertisers and marketers alike should stay on top of the rising demand for vampire-related products and services. Here are a couple trends I discovered using the Google Trends tool.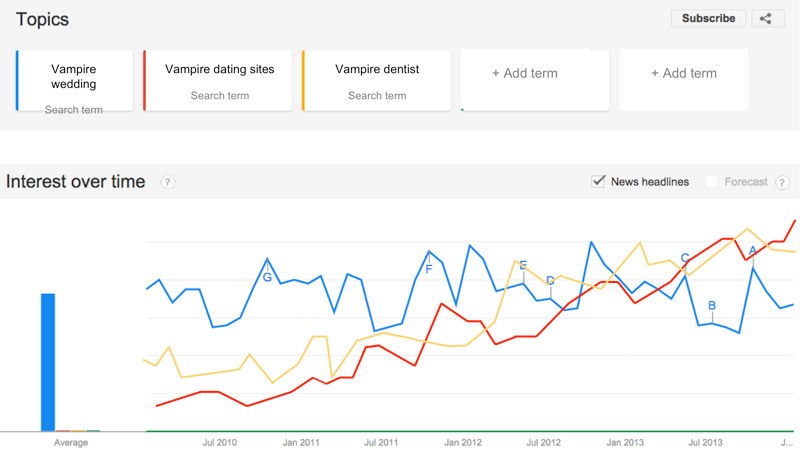 The data indicates seasonal trends for the search term "vampire wedding," with spikes in interest during May and October. Additionally, the graph shows a growing interest in "vampire dating sites" and "vampire dentist." Online search and display advertisers can use this type of information to plan campaigns and budget appropriately for increasing demand.
For blog topic planning, content strategy, SEO and PPC campaigns, stock your coffin's toolbox with Google Adwords' Keyword Planner and Wordtracker.
You should obviously avoid bidding on words like "garlic." And you definitely want to eliminate unfriendly terms like "stake" and "silver bullet" from your vocabulary. But using tools gives you a taste of more subtle changes in interest and behavior.
For example, I discovered that average monthly Google searches in the United States for terms like "vampire makeup tips" and "vampire workouts" increased 150 percent from 2013 to 2014. This type of information can help marketers segment nocturnal audiences into more manageable customer groups to deliver more targeted messages.
Going for the jugular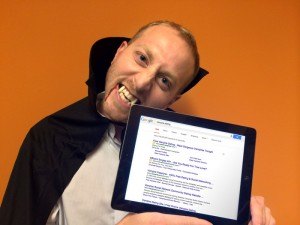 Creating messages that summon creatures of the night is one thing. Finding them where they feed is another.
The trick is to learn where these suckers ingest their information. You need to be well versed on all of the popular vampire hangouts, forums and chat rooms. Try introducing yourself to one – carefully – and asking about their favorite websites, magazines and late night TV shows. Walk a mile in their capes before making gross generalizations. Data and primary research are vital to the success of inbound marketing campaigns.
Just because they're immortal and have all the time in the world, doesn't mean they're willing to wade through multiple pages to get to the content they're craving. Streamline your navigation and user interface to serve the right content on the first click.
Another thing to consider is which times of day to promote your content. Vampires and daylight don't mix, so they're a captive audience before going to sleep in the morning. Have your message in the mix as they wake up in the evening to stay top of mind through their nightly routine. Tap into Google Analytics to test this and other campaign variables.
Putting a nail in the coffin
Cater your calls to action to vampire tastes and make your offers relevant to them. Promoting anti-decay dental products could yield fangtastic results, while a garlic bread offer might put your brand in the ground.
Once your content is sharp, it's time to close the deal and give your audience direction. If you're an insurance company, do you want to lure them in with a free coffin coverage quote? If you're a bar, do you want them to take advantage of an email offer for buy one get one free bloody marys?
Create a call to action that can raise the dead with a blood-red button against a dark background.
Remember what's at stake here. Countless hours spent creating content may all be in vein if the call to action isn't clear or enticing enough.
Drinking in the big picture
At the end of the day, you can't take a passive approach when marketing to vampires. Be surprising and grab them by the throat – they'll appreciate that.
When doomsday comes, things will change rapidly and it's your job to morph your marketing. While doctors and nurses are expected to remain at their posts in times of chaos, I like to think that we marketers will do the same until the very end.
I'll leave you with a sobering wake-up call. If you don't think brands like McDonald's have a vampire apocalypse crisis communication strategy, think again. They're probably stalking a trademark for the tagline "I'm Bleedin' It" right now.
Disclaimer: We had a lot of – ok, way too much – fun with this topic. Some of the data presented is (disturbingly) real, while other bits are figments of our imagination.