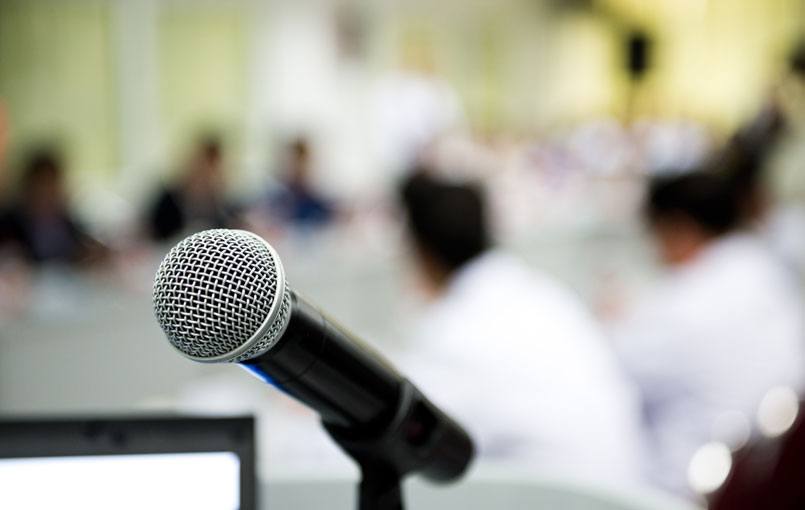 11 May

Maximize the marketing value of speaking engagements

We are frequently asked for our thoughts on the marketing value of public speaking engagements. The question comes from people who have the opportunity to speak before clients and prospects and do so often as featured speakers or expert panelists.

But they wonder if there is any return on their investment of time.
How to capitalize on public speaking
Our first step is to ensure that the audience is truly relevant to their business and the topic is one they're knowledgeable and passionate about. If these inquiries check out, then our answer is always, "heck yes."
To which the common response is, "Well, I can't think of a single time I got new business from a speaking engagement."
Then we start digging into why that is.
... there is tremendous value in presenting as a content expert.
Be a content expert for clients
If your clients are in the audience, there is tremendous value in presenting as a content expert. The benefits include:
The fact that the venue/organization chose you to speak is a great endorsement and affirms to your client that their business is in the right hands.
You get face time with your clients. Try to get a list of attendees beforehand to learn which current and former clients will be there. Reach out to them to say you hope to connect. Plan dinner or drinks with high value targets.
You become top of mind with clients. Or you may reengage with a sleeper client who hasn't used you for a while. How often do you discover that a former client went elsewhere for a service you offer, only to be disappointed by that vendor's performance? Being top of mind when opportunity moments happen is everything.
Clients may learn something new about your business. Clients often have a very narrow understanding of what you do, limited by their experience and to their specific needs. Speaking is a great way to introduce them to other areas of expertise where they might engage with your business.
Hang around and be visible after your talk so the audience can approach you. The same applies to social hours, breaks and other opportunities to hang out so attendees can seek you out. Even if you are not a "work the crowd" type, current and former clients will find you to connect and ask questions. Listen for opportunities that may come out of those conversations and follow up later.
The effort you put into preparing your talk can be leveraged into other things such as blog posts, social media posts, etc. Have clients who did not attend the talk but might benefit from the topic? Share a link to a video of the talk or a transcript.
Generate new business from speaking engagements
What about prospective clients? How can you turn a speaking engagement into a lead generation tool? We love that question and have a lot to say on the matter. It's a big lost opportunity for most. We cover that in Part 2!